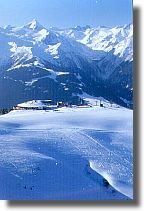 Winter on the Schmittenhöhe opens entirely new perspectives. Mountains with first class slopes, some leading directly down to the valley - with altitude differences of more than 1,000 metres - fascinate alpine skiing fans of all ages and all levels. And we also encourage winter hikers to leave their footsteps in the snow. In addition, 45% of our slopes are covered with artificial snow to best serve carvers, snowboarders, and skiers. After all, Austria's most beautiful panorama mountain does not succumb to hibernation...
The apartment is situated only 150 meters of the valley station of the Areitbahn (on the Schmittenhoehe), just as from ski school and ski rental shop.
The summer adds colour to the Schmittenhöhe - Austria's most beautiful panorama mountain. The Schmittenhöhe mountain offers a wide range of sports and leisure outdoor activities .
At the 3.203 metre high Kitzsteinhorn, which is in all alpine skiers or snowboarders can drive the whole year on. It is approximately 5 minutes (by car or bus) far away from the apartment.
The beautiful old part of town with the pedestrian precinct, shops and many restaurants and cafe load for strolling and buying in.